The trip is the third day. Last night I enjoyed snowy landscape in Shinjo city of Yamagata prefecture !
※You can look at it slightly bigger when you click a photograph.
I went Shinjo st. at 5:30. There're a kind of fountains for snow melting on the sidewalk. I saw the same appurtenances at Fukui city. I think melting snow system is good,but my shoes get dripping wet !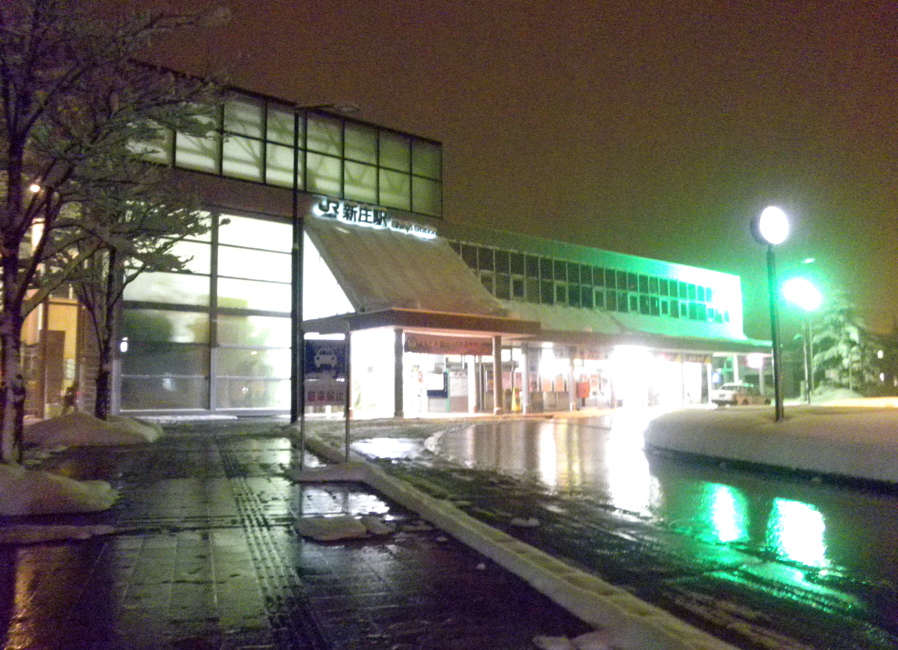 On the nominal trajectory, the first train in the morning of Yamagata shinkansen and JR ouuhonsen are waiting.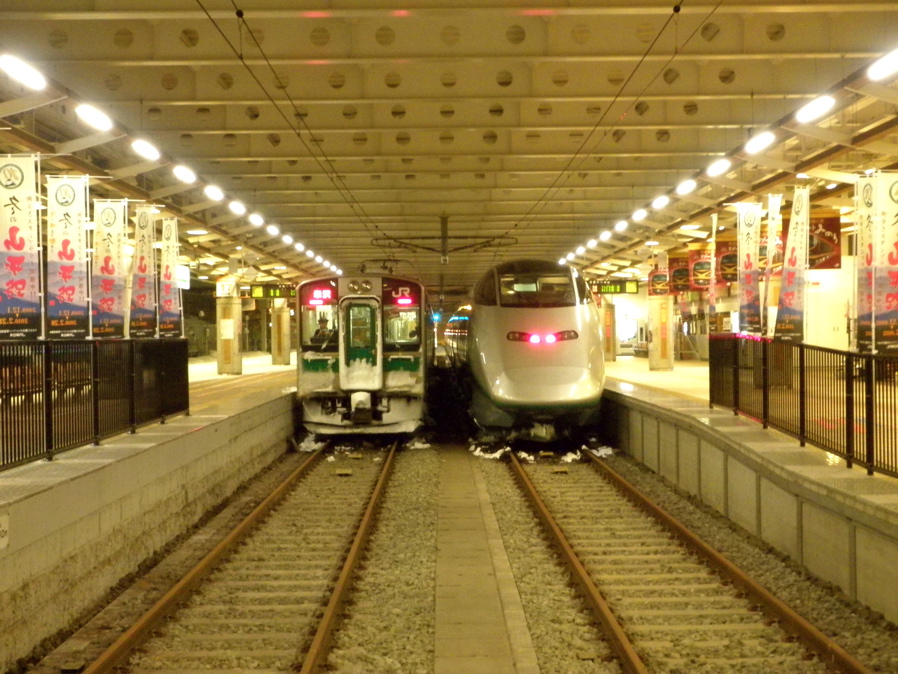 The train I get today is this JR Rikuu east line KIHA 112 dieselcar. The train departs to Naruko-onsen st. at 6:00.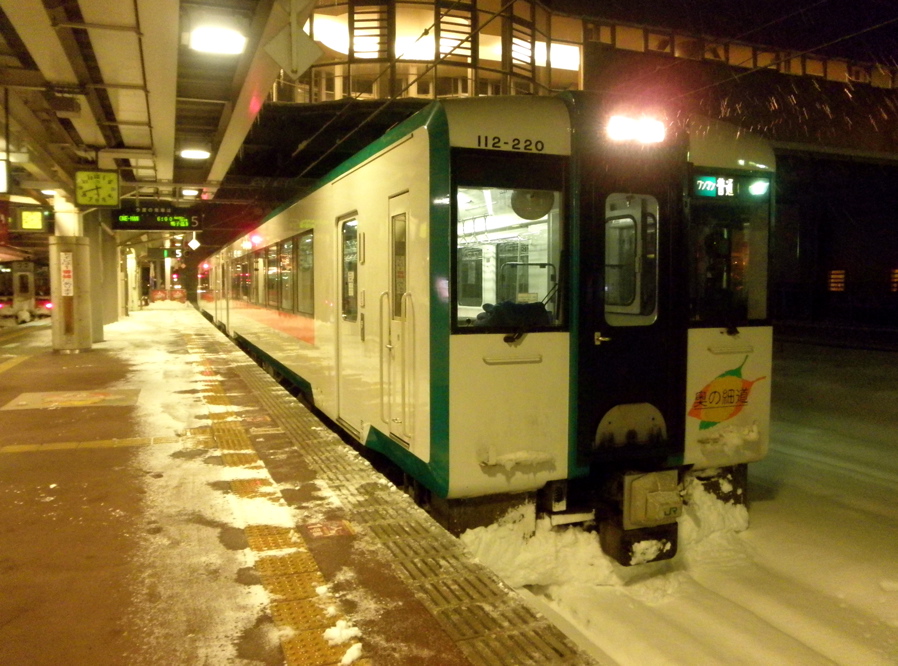 I saw the car window of the progress direction, Track is covered with snow.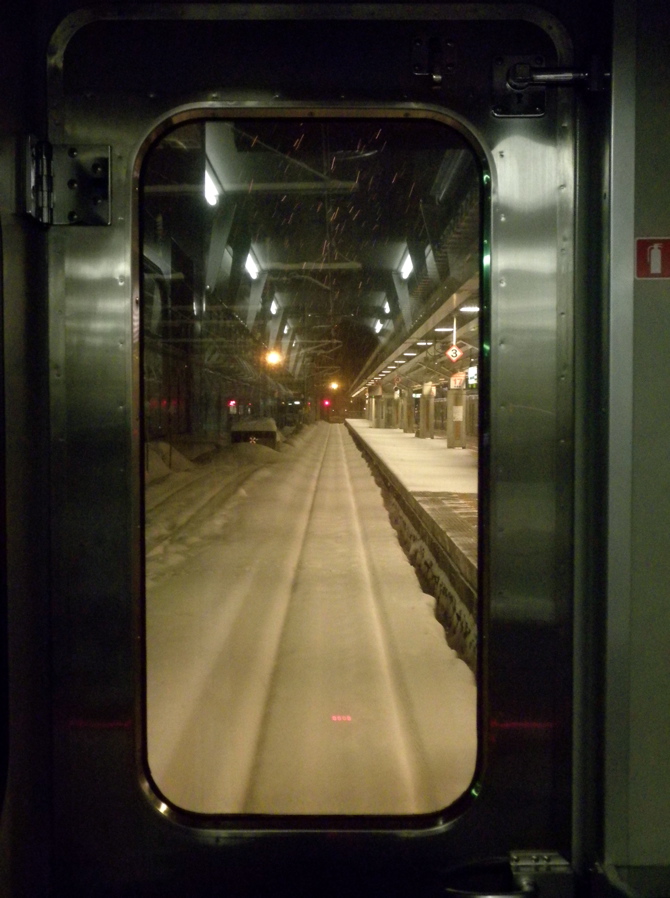 Also I saw the same scenaly from plathome.I was anxious about snow weather.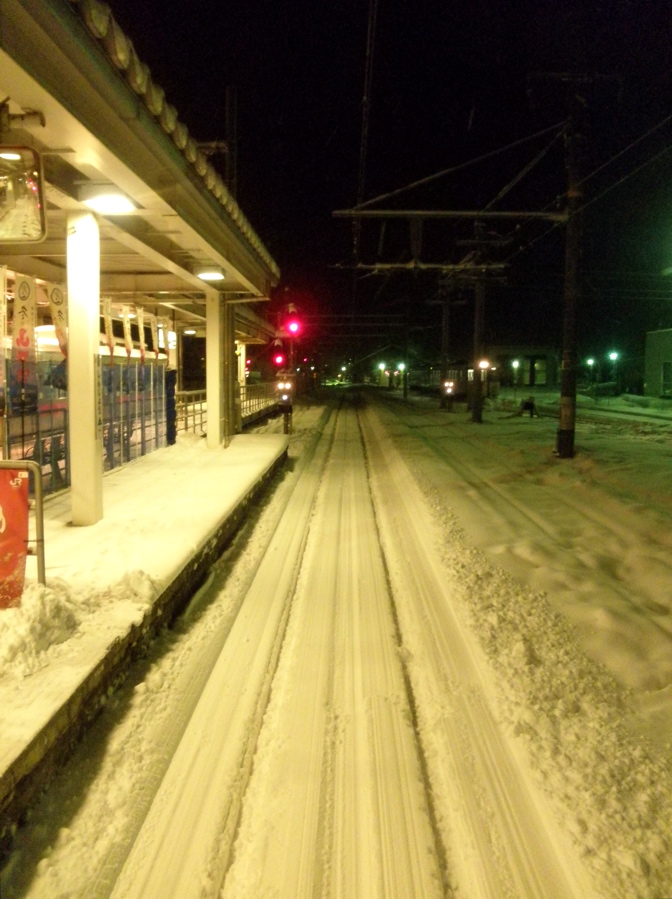 As usual I took a souvenir picture reflected in the mirror. At the platform waiting for cross-purposes of the train.It heavy snow falling !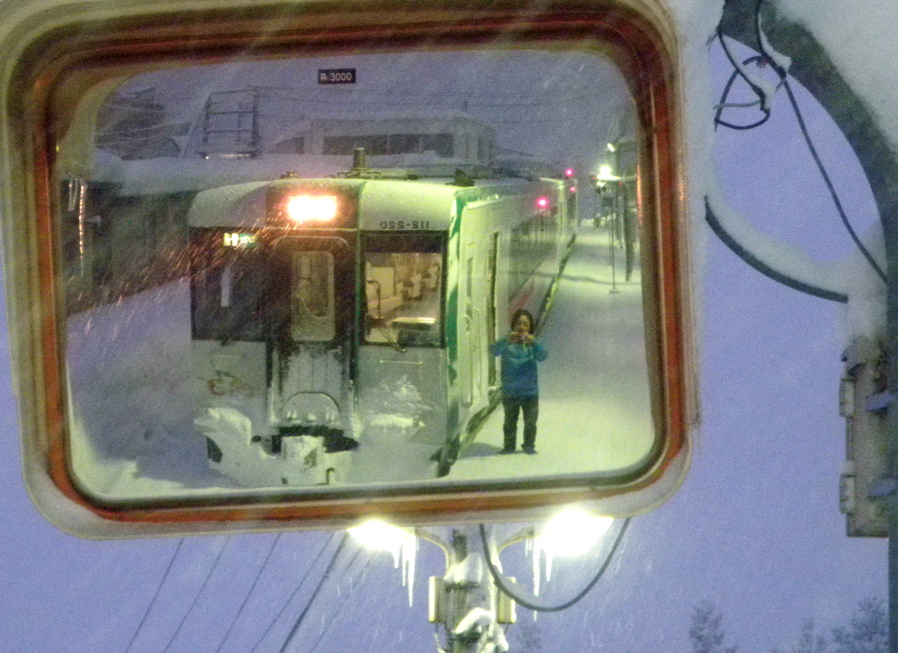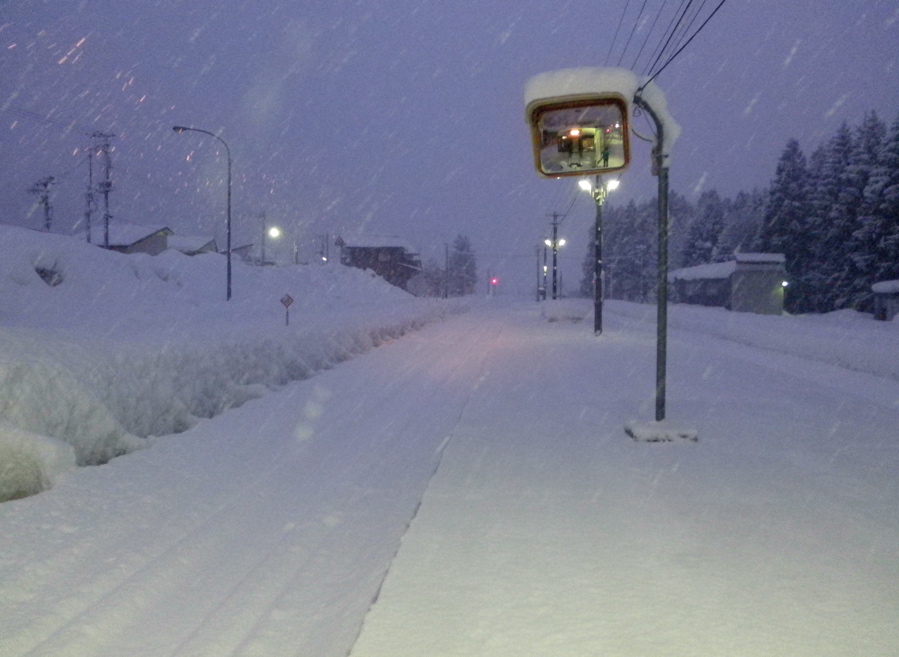 The train looked like this.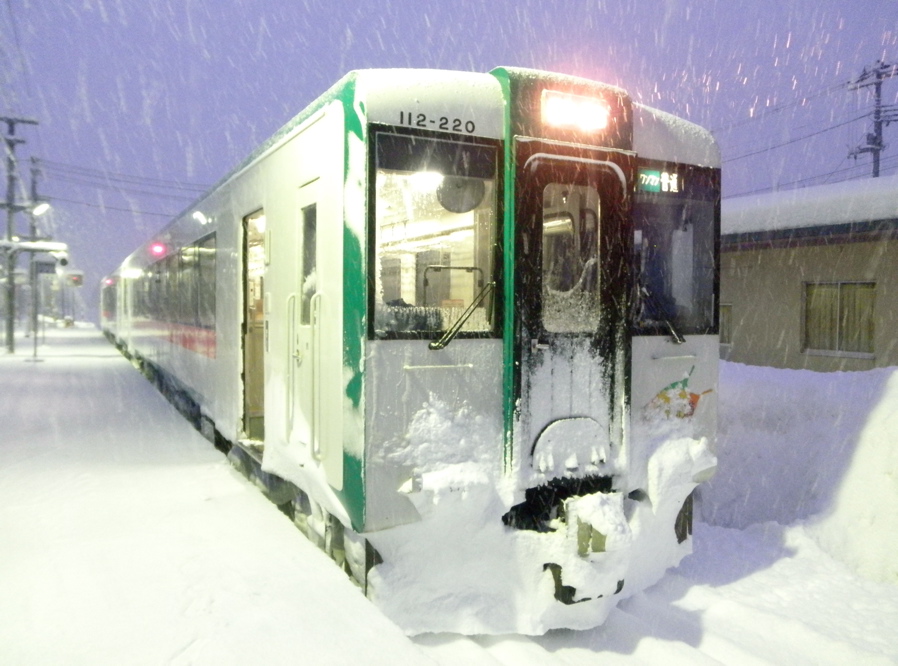 Arriving at Naruko-onsen st. I changed a train for Kogota st. 5 minutes after the train departed. The snowfall weakened after this station.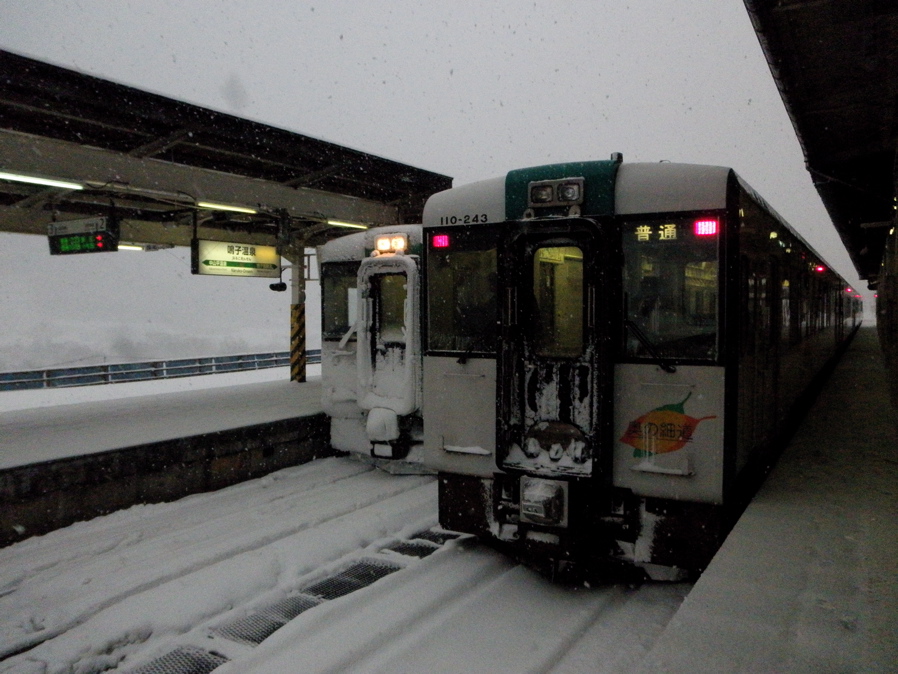 At 8:18 I arrived Kogota st.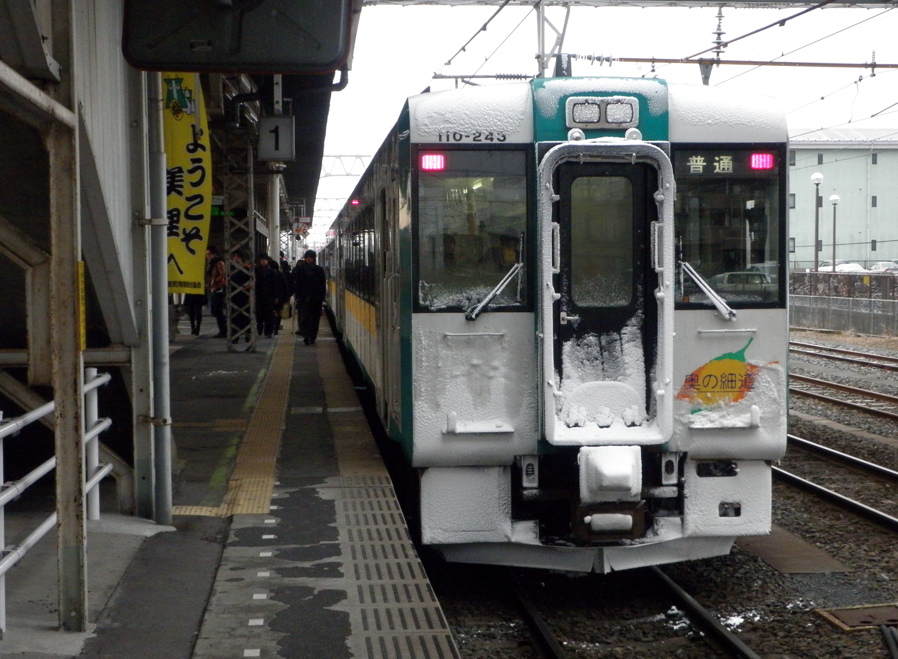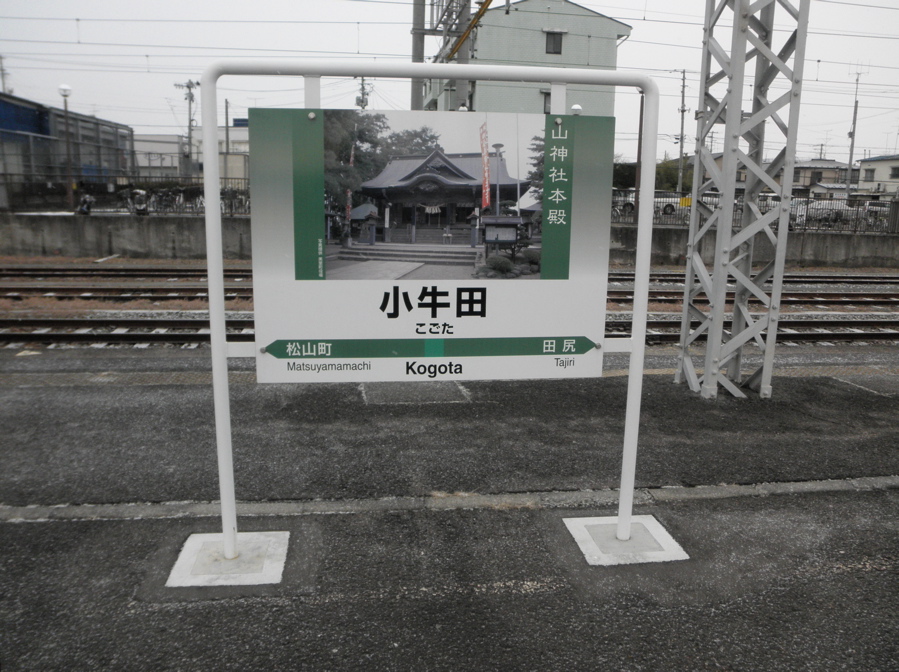 From Kogota st. I went to Sendai st. on JR Tohoku line. And at Sendai st. I changed to JR Joban Line in only two minutes ! I went to Iwaki st on JR Joban Line.
Shinchi st. of JR Joban line. This station name recalls me to Umeda-Kita-Shinchi of Osaka.※この駅は東日本大震災で全壊に近い被害を受け、山側に1.1km移動して再建される予定。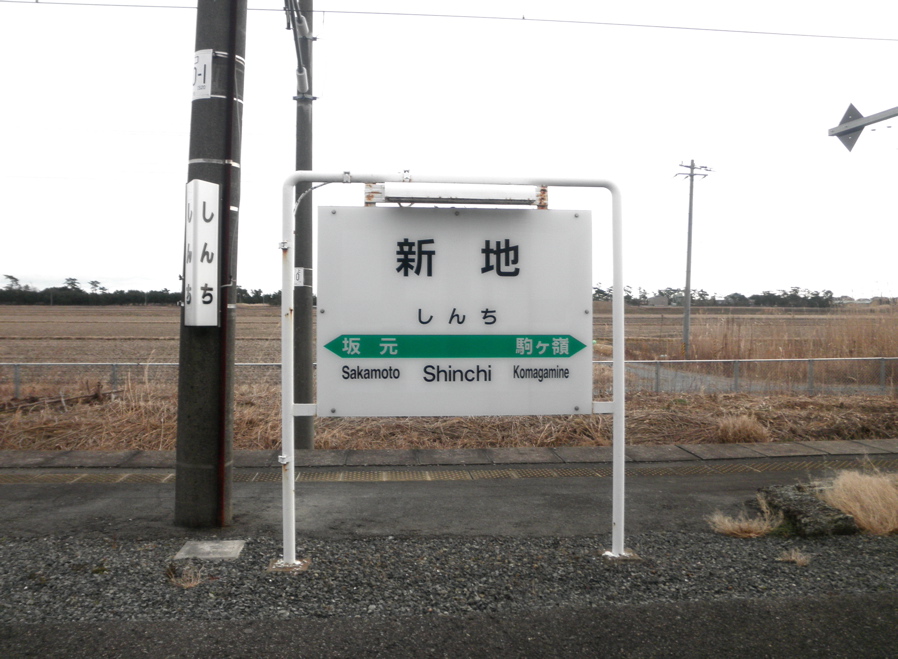 There is a miniature of a castle on the platform"Kido station", I do not understand why is it ! I examined it, but there is no castle around this station.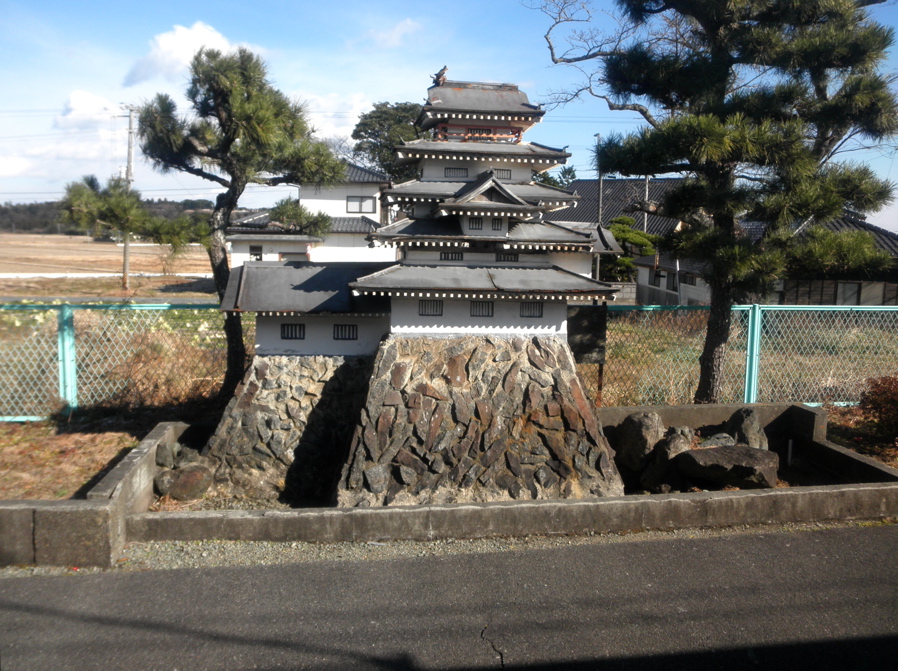 I saw the Pacific in the left car window when the train approached Iwaki st. Still, it is this blue sky!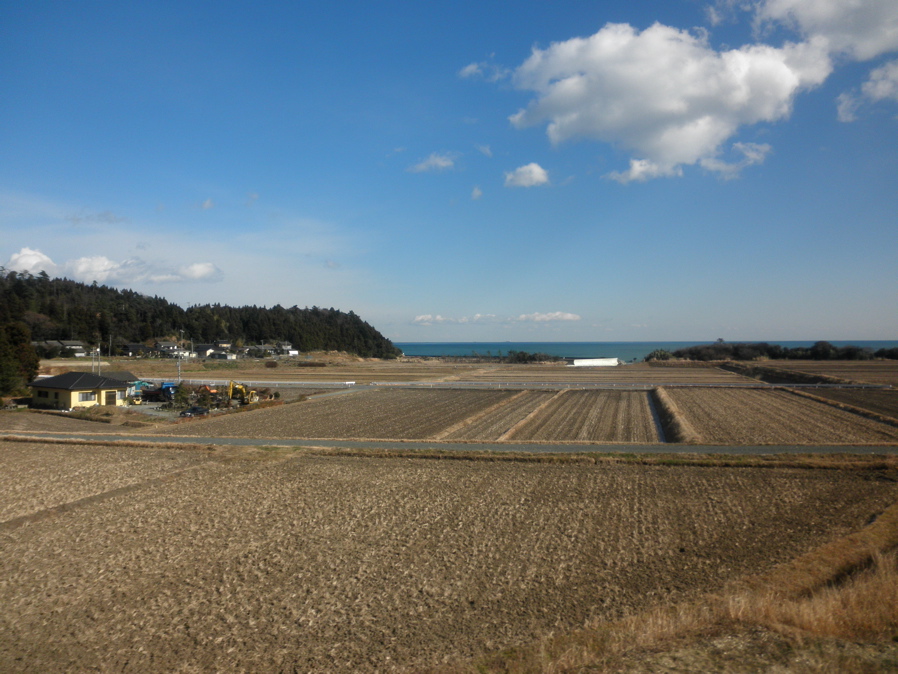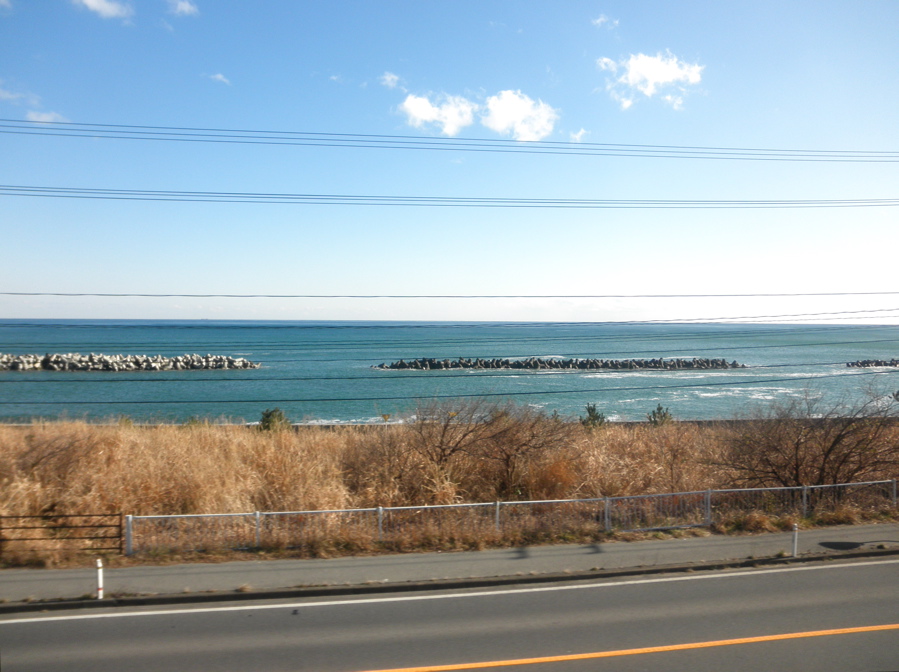 At 12:07 I arrived at Iwaki st. I had 66 minutes till the train of JR Banetsu east line for Kooriyama st. So I enjoyed taking a walk around the station and eating lunch.Iwaki Station was under construction.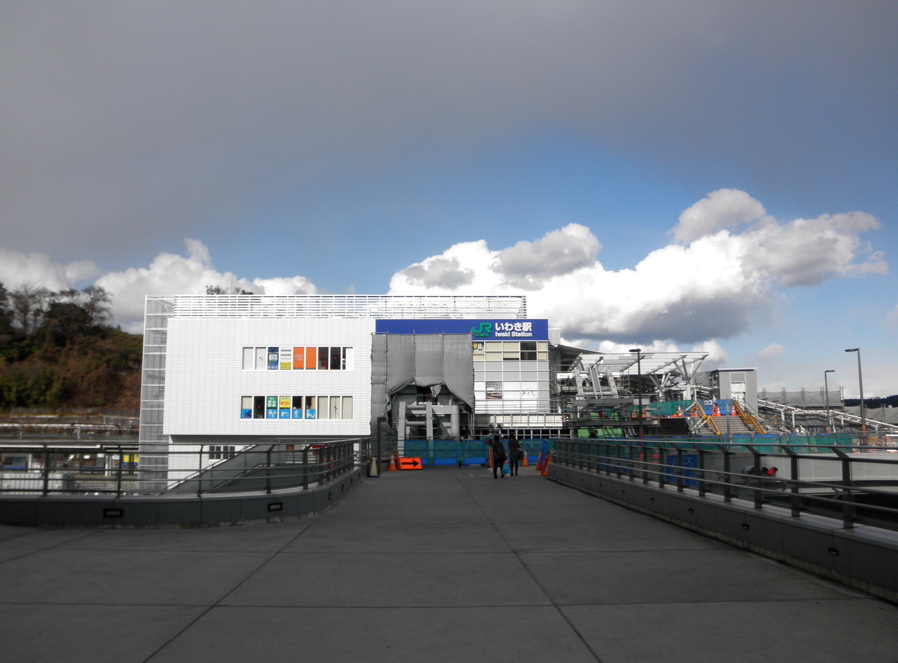 It is a time schedule of JR Banetsu east line. A train going to Kooriyama st. is only five of them on a day.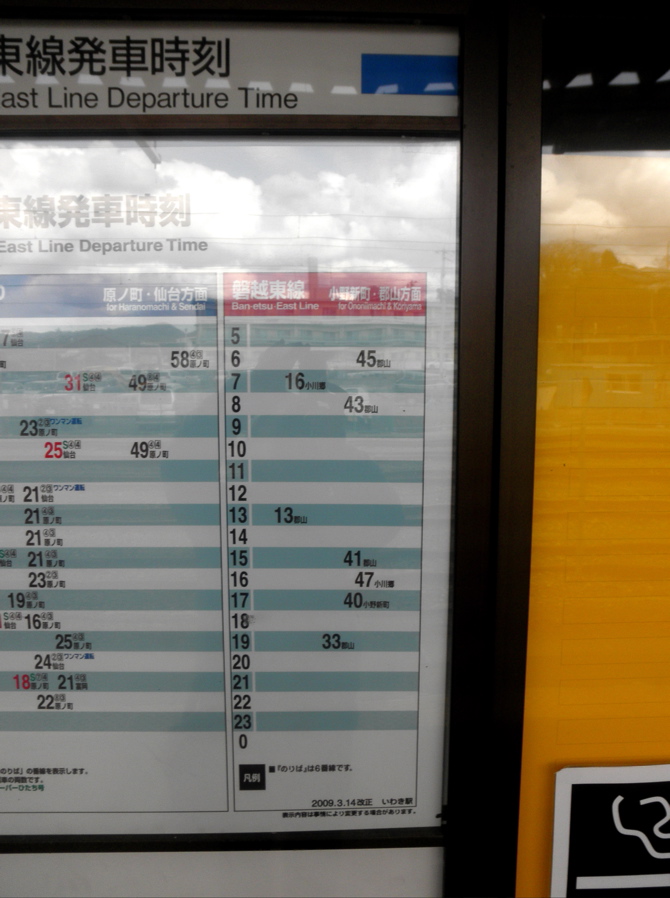 The train for Kooriyama st. was waiting. KIHA 111 family diesel car.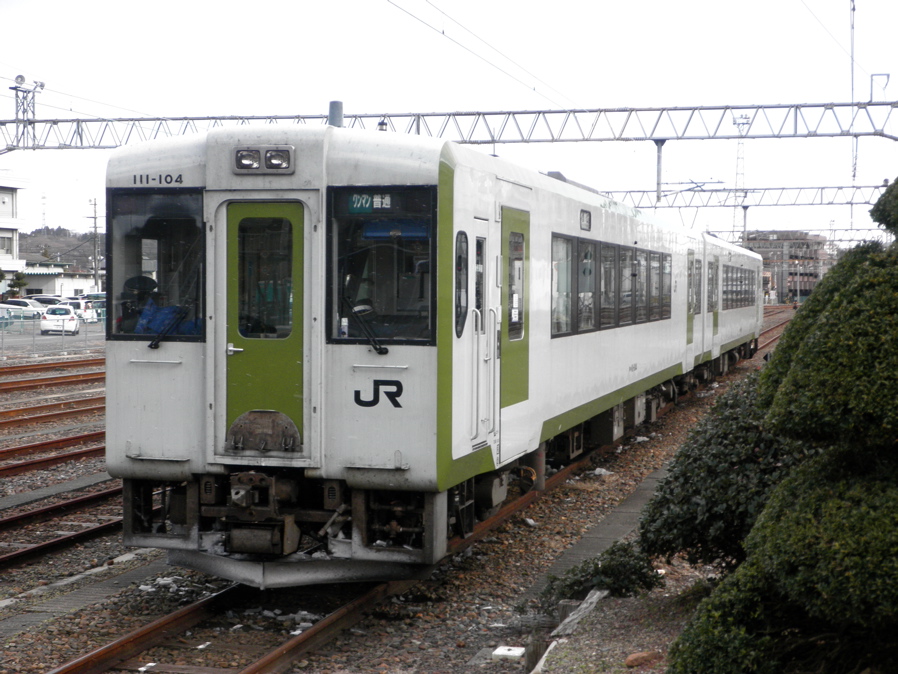 As usual I took my portrait reflected in the mirror with KIHA 111.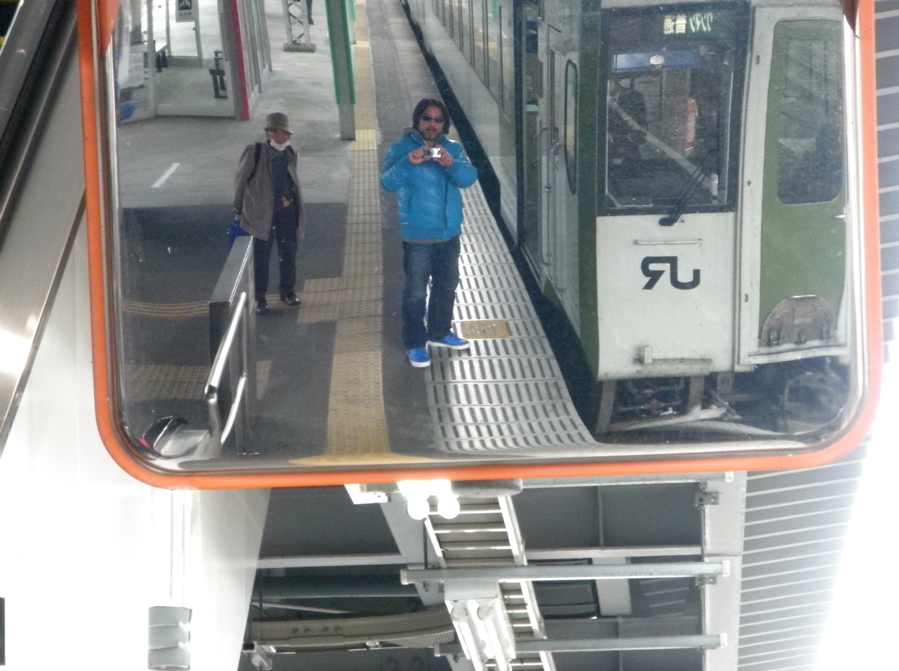 The scenery of JR Banetsu east line along the line is quiet in this way.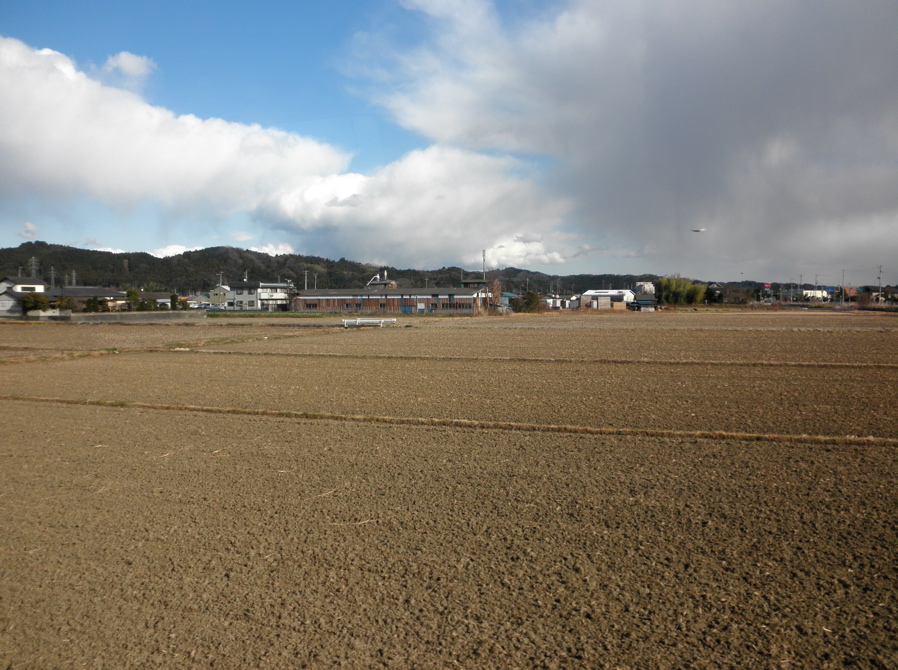 At Kamimata st. a train for Iwak st. was comming.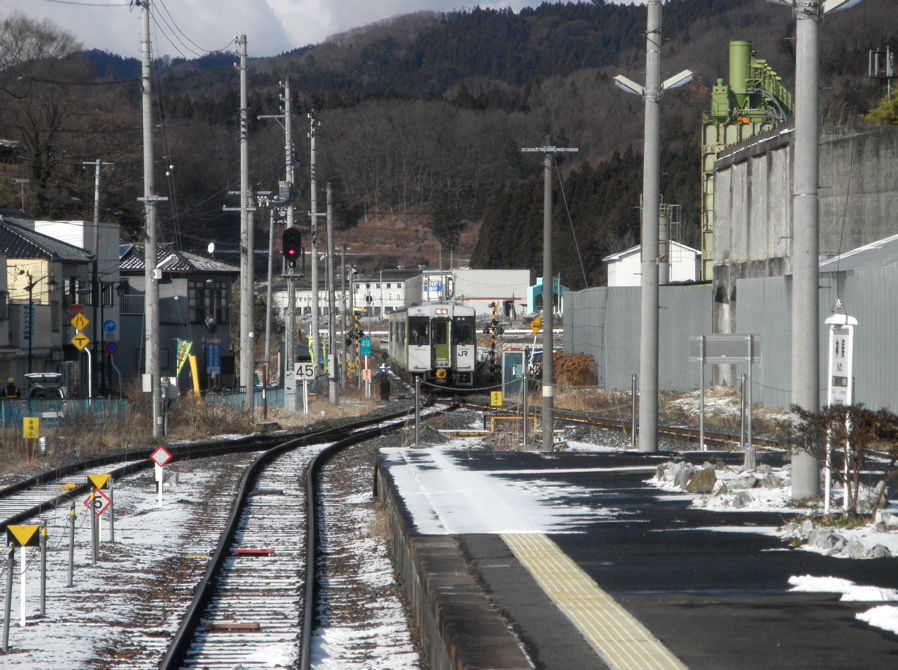 As soon as the train left Funahiki st. suddenly a huge castle appeared ! I was surprised for there was no big buildings.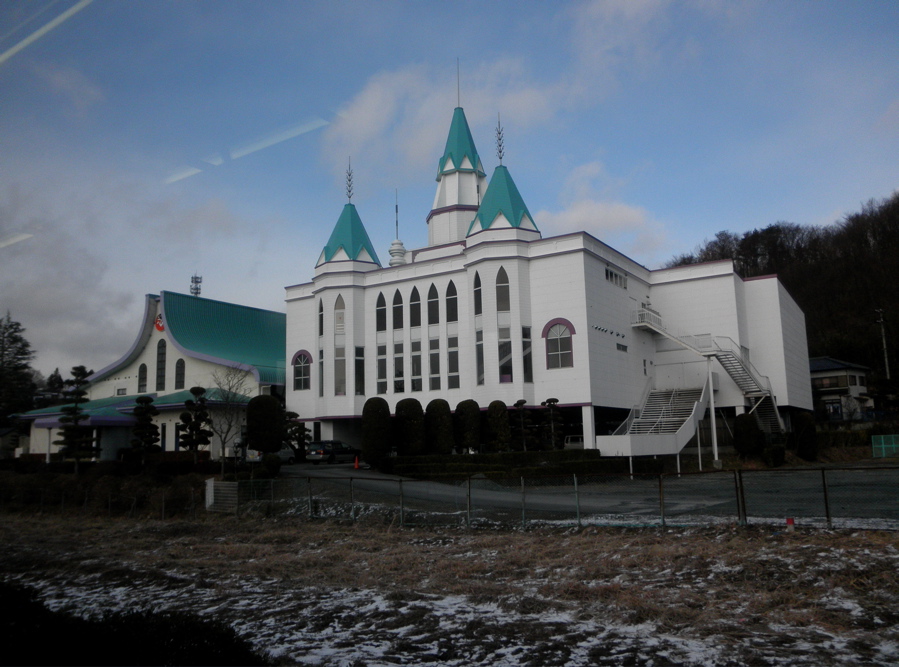 At 14:48 I arrived Kooriyama st. But JR Banetsu west line was delayed by snow ! The train which arrived by a delay for 20 minutes was covered with snow.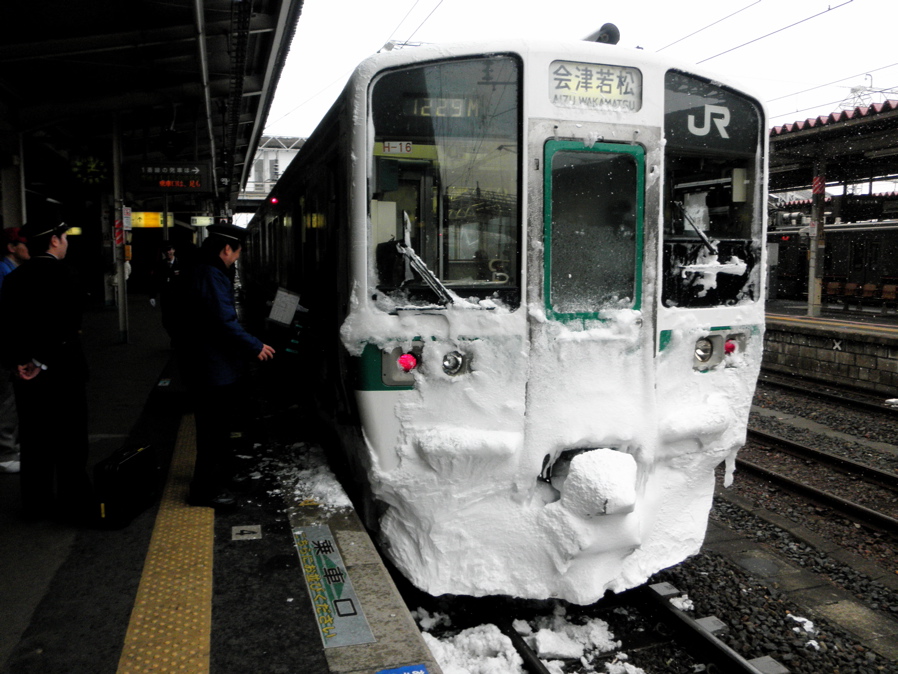 This scenery is a station on the way going to Aizu.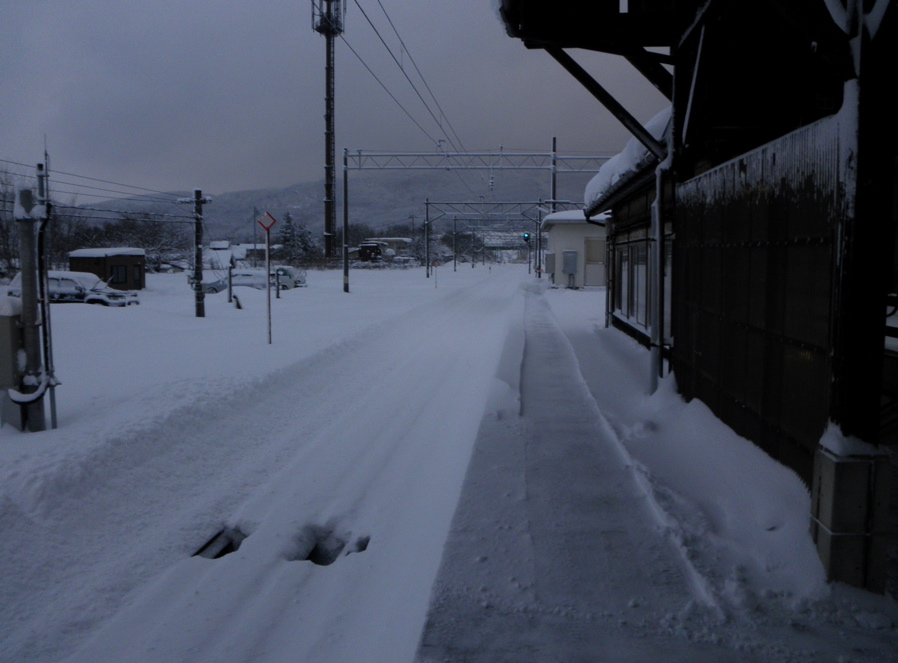 The train arrived Aizuwakamatsu st. covered with snow at 16:30.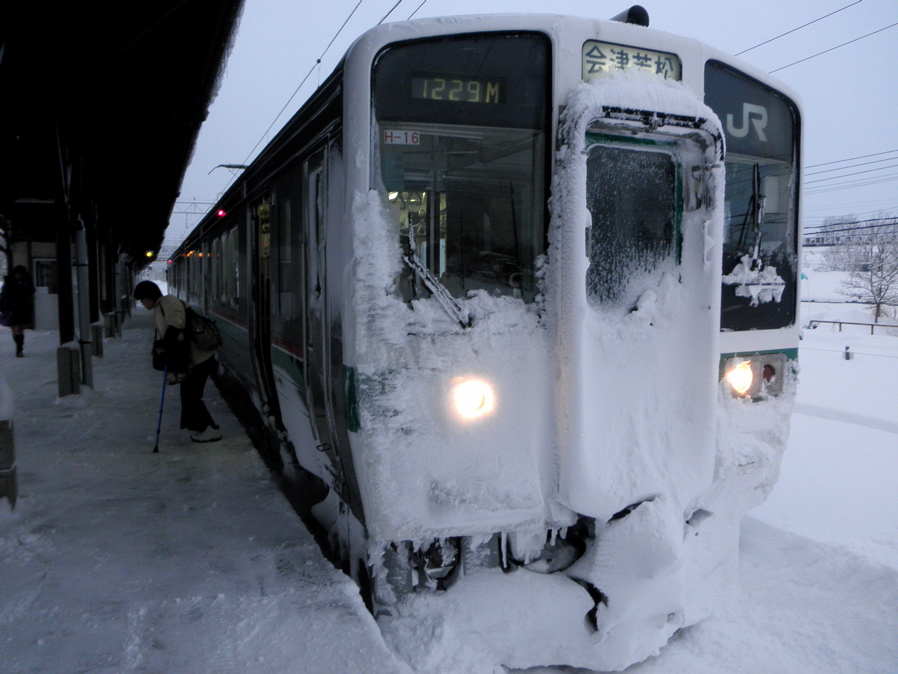 The train soon departed for Kitakata st.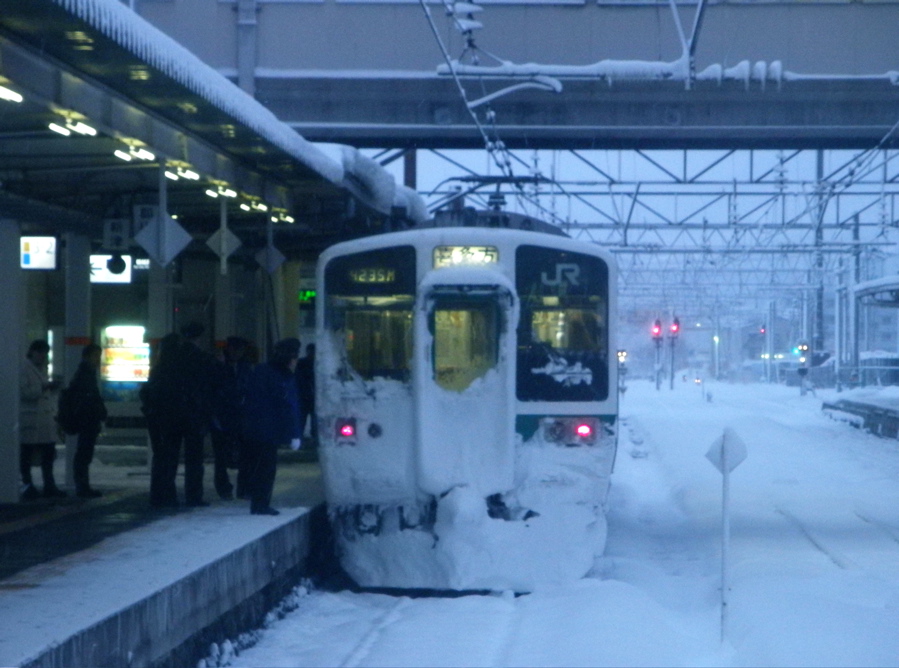 Train scheduling information.
In Banetsu west line downtrain from Kitakata st. to Niitsu st. is suspension by a heavy snow of Niigata area.
"Kitakata st. - Nozawa st. interval" acts by the bus.
In addition, JR Tadami line "Tadami st. - Koide st. interval" is suspension daylong on January 14.
We apologize to the visitor for a great nuisance.
Please ask a station staff in detail.
...Well...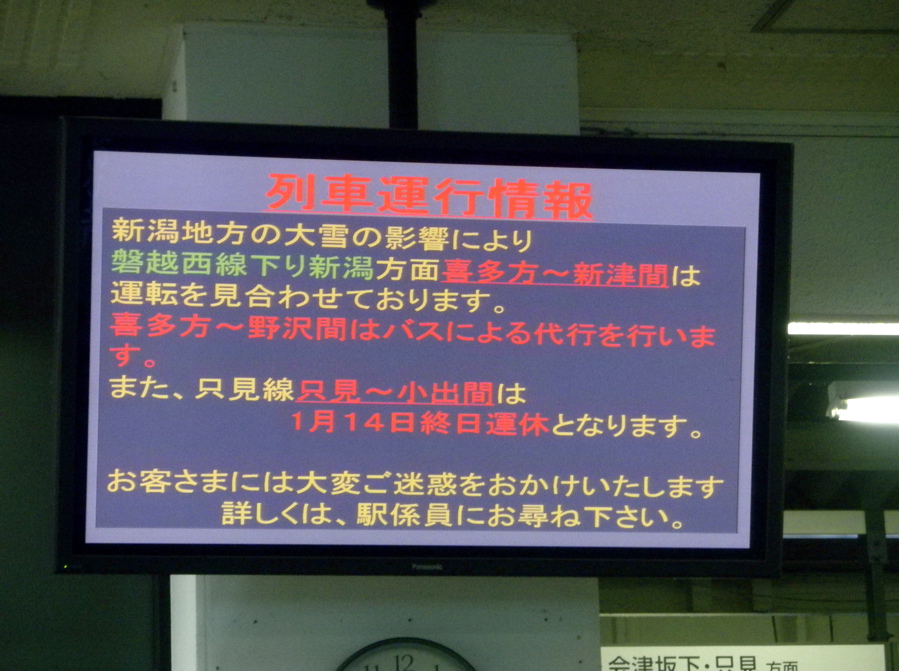 It is Aizu Wakamatsu Station of the snow scene in comparison with the photograph of the yesterday morning !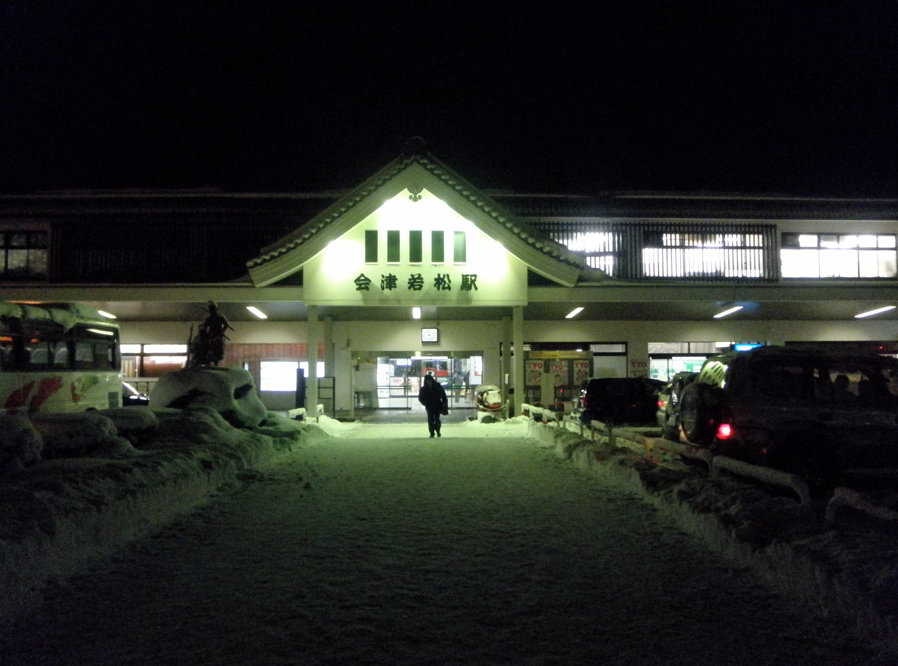 It was the sidewalk in front of the hotel where snow shoveling was made ordinarily, but snow was piled up !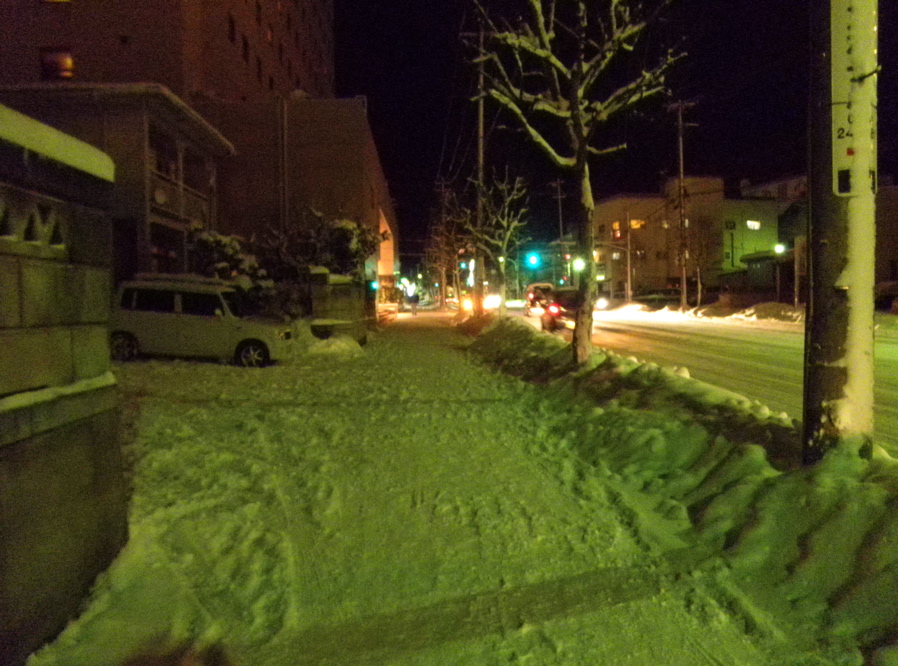 I would get on JR Tadami line tomorrow by the plan.However, as for JR Tadami line seemed to be suspended in the situation. What it would be?
It was 8 hours 30 minutes for seat-load time and waiting over 3 hours today !
乗車距離〈時間〉
・
陸羽東線 新庄 - 鳴子温泉 - 小牛田 94.1km 〈132分〉
・東北本線 小牛田 - 仙台 43.2km 〈46分〉
・常磐線 仙台 - いわき 151.3km 〈162分〉
・
磐越東線 いわき - 郡山 85.6km 〈95分〉
・磐越西線 郡山 - 会津若松 64.6km 〈75分〉
小計 438.8km 
うち非電化 179.7km
 乗車 8時間30分 
うち非電化 3時間47分